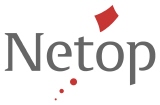 Netop
Netop develops and markets software solutions that enable swift, secure and seamless transfer of screens, sound and data between two or more computers. We have three business areas, Netop Administration, Netop Education and Netop Communication.



Tugiteenused



Viimased uudised


08.01.2018
Announcing Netop Remote Control 12.67
A maintenance release of Netop Remote Control is available on Monday, 08 January 2018. Netop Remote Control 12.67 introduces improved security with the new logging capabilities for the Windows Host to the Netop Portal. It also provides confirm access capabilities for the Guest and the Host running on Windows when using the Netop Portal.


Loe lisa ...



27.09.2017
Announcing Netop Remote Control 12.65
A maintenance release of Netop Remote Control is available on Wednesday, September 27, 2017.

With Netop Remote Control 12.65, the process used by Hosts to enroll in the Netop Remote Control Portal has been completely redesigned.

This release provides the following benefits:
Improved security for the enrollment process (Windows Hosts only)
Better conflict management for devices in the Portal
Simplified process for assigning devices to groups in the Portal
Improvements to the installer (Mac Host)



17.05.2017
NEW RELEASE: Netop 12.61 with Intel vPro Support Arrives!
Integration with Intel vPro and Netop's advanced security options make it ideal for financial, retail and organizations concerned with data and network security Netop continues to deliver solutions that meet the highest standards of security and performance with the release of Netop Remote Control 12.61. The latest version of Netop Remote Control includes integration with Intel vPro technology. With this integration, Netop Remote Control users can access vPro devices regardless of operating system state, start remote control sessions to the BIOS of the device, and integrate with additional authentication options. This release is designed to exceed the requirements of financial institutions, retailers and other customers who put a premium on network and data security and PCI-compliance.


Loe lisa ...