Täname Teid huvi eest!

Allpool leiate uuemat informatsiooni meie partnerite, toodete, seminaride jne. kohta.
Juhul, kui olete huvitatud, siis palun võtke meiega ühendust.
| | | | |
| --- | --- | --- | --- |
| | | | Virtualizes, secures, and manages data on-premise, in the cloud, and in hybrid IT environments. |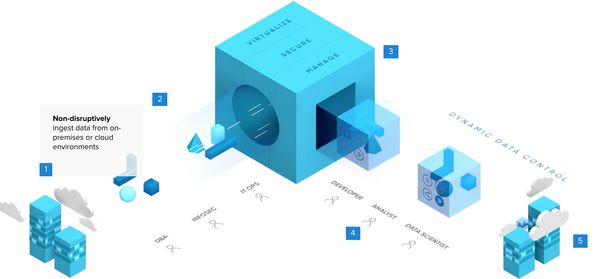 Dynamic Data Platform
The Delphix Dynamic Data Platform allows data to be securely delivered to every stakeholder, across on-premise, cloud & hybrid environments at the speed and scale required to enable rapid development and delivery of applications and solutions.

The Delphix Dynamic Data Platform provides a comprehensive approach to DataOps, enabling companies to easily deliver and secure data, wherever it exists. With Delphix, businesses manage data distribution and access with the speed, simplicity, and level of security required to drive digital transformation. With Delphix, your data is:
Fast: Provision data securely and in the required environments in minutes instead of hours, days, or months to enable IT transformation.
Secure: Secure sensitive data in adherence with security policies and ensure regulatory compliance.
Everywhere: Move and manage data from any environment – on-premises, cloud, or in hybrid environments, and seamlessly provision data where required.
HINNAPÄRING
LIITUN HUVIGRUPIGA
KONTAKT MÜÜJAGA
KATSETAMISE TELLIMUS
SOOVIN LISAINFORMATSIOONI
Proovi tasuta

| | | | |
| --- | --- | --- | --- |
| | | | Boost the velocity of your DevOps pipeline |

Toad DevOps Toolkit
Database development no longer has to be a bottleneck in your otherwise agile DevOps process. Toad DevOps Toolkit makes it easy to execute key database development functions within your DevOps workflow —without compromising quality, performance or reliability.

This unique Windows application exposes key Toad for Oracle functionality (Schema & Data Compare, Code Analysis, Unit Testing and more) as programmable objects. As a result, DevOps automation tools such as Jenkins and Bamboo can include database-related steps as part of continuous integration processes via DevOps scripts — speeding project completion while ensuring code quality.


HINNAPÄRING
LIITUN HUVIGRUPIGA
KONTAKT MÜÜJAGA
KATSETAMISE TELLIMUS
SOOVIN LISAINFORMATSIOONI
Proovi tasuta

| | | | |
| --- | --- | --- | --- |
| | | | Comprehensive systems management for any network-connected device |

KACE Systems Management Appliance
Streamline IT asset management, secure network-connected devices, and service end-user systems more efficiently. It's all possible with the industry's only appliance-based comprehensive endpoint systems management solution built for growing organizations. With the KACE K1000 Systems Management Appliance, you can:
Accurately inventory all hardware and software
Reduce risk of security breaches with automated patching of mission-critical applications and operating systems
Assure software license compliance
Easy to use and fast to implement, the K1000 gives you more time to innovate. How? By automating endpoint management and endpoint protection of your increasing variety and number of devices. And, to add more value to your endpoint systems management solution, explore KACE Essential Services.


HINNAPÄRING
LIITUN HUVIGRUPIGA
KONTAKT MÜÜJAGA
KATSETAMISE TELLIMUS
SOOVIN LISAINFORMATSIOONI
Vaata toote demo

Proovi tasuta

| | | | |
| --- | --- | --- | --- |
| | | | Identify and Eliminate Insider Threats |

ObserveIT
ObserveIT is a lightweight endpoint solution that is focused on identifying and eliminating insider threats. By having "eyes on the endpoint" and continuously monitoring user behavior, ObserveIT alerts IT and Security teams about activities that put organizations at risk. With full video capture, outstanding search capability and playback of any policy violation, ObserveIT provides comprehensive visibility into what people – contractors, privileged users and business users – are doing, and reduces investigation time from days or hours to minutes.


HINNAPÄRING
LIITUN HUVIGRUPIGA
KONTAKT MÜÜJAGA
KATSETAMISE TELLIMUS
SOOVIN LISAINFORMATSIOONI
Proovi tasuta

| | | | |
| --- | --- | --- | --- |
| | | | Easily improve collaboration and data provisioning |

Toad Intelligence Central
Easily share information across your team with Toad™ Intelligence Central. This set of data reporting tools provides a centralized repository for up-to-date information, making data provisioning more efficient, in a sanctioned, company-controlled environment. Data gathered by Dell's data analysis and reporting tool, Toad™ Data Point, can be published directly to Toad Intelligence Central. This makes it quick and easy to share and view queries, files, objects, and data sets — right within the tool. With this server-side component, you'll also reduce the risk of reporting failures, security threats and data loss while ensuring data governance.


HINNAPÄRING
LIITUN HUVIGRUPIGA
KONTAKT MÜÜJAGA
KATSETAMISE TELLIMUS
SOOVIN LISAINFORMATSIOONI
Vaata toote demo

Proovi tasuta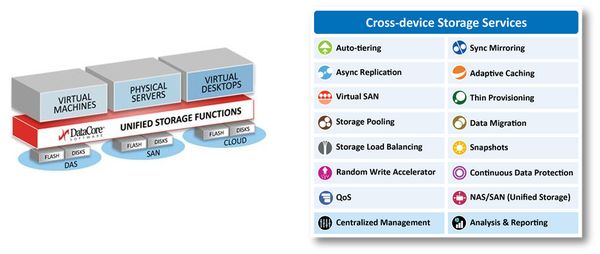 SANsymphony
The DataCore SANsymphony-V10 software platform takes isolated storage devices, sometimes spread between different locations, and places them under one common set of infrastructure-wide services. It pools their collective resources, managing them centrally and uniformly despite the differences and incompatibilities among manufacturers, models and generations of equipment in use. Deploy the software on separate external X86 servers in front of diverse storage, or in the same servers where applications, virtual desktops and virtual machines execute.

Virtualize Your External Storage Devices
Layer SANsymphony-V10 in front of purpose-built storage devices to create a multi-tiered storage pool. The software running on dedicated servers uses auto-tiering to dynamically choose the device best suited to meet the performance and availability requirements for each workload.
Virtualize multiple like, or unlike devices to provision, protect, cache and manage them with the same central set of intuitive tools and automated services.
Replicate between unlike devices that cannot interoperate on their own. Reduce the cost and remove technical barriers for mirroring data, maintaining snapshots, and copying critical information to remote branch offices and disaster recovery sites.
Hyper-Converged Storage with DataCore Virtual SAN
Virtual SAN based on SANsymphony-V10 runs directly on your hosts to aggregate their individual local disks and flash memories into a fast and highly-available, virtual storage pool. In this way, you can share data across the cluster of servers without an external SAN. The complete set of advanced features is available for VMware and Microsoft environments.
Works with any hypervisor, any server, any storage
Accelerate performance for latency-sensitive applications using server RAM for high-speed cache
Integrates with external SAN to scale out additional capacity
Reduce cost and complexity with only 2 servers needed in a highly-available cluster
HINNAPÄRING
LIITUN HUVIGRUPIGA
KONTAKT MÜÜJAGA
KATSETAMISE TELLIMUS
SOOVIN LISAINFORMATSIOONI
Vaata toote demo

Proovi tasuta


NetOp Vision Pro
Vision Pro is the latest version of NetOp School.
Vision Pro offers all the same features as Netop Vision (Vision features), the classroom management software that teachers across the world depend on when using technology in the classroom. But it goes further. Three powerful enhancements make the difference:
High-Speed Screen Sharing: Share any program you're running with your students, from AutoCAD to QuickTime
Ultimate Web Control: Vision Pro gives you the power to customize your students' access to the Internet case by case, a necessity for using technology in the classroom
Class-Wide Remote Login: Now you can get all your computers logged in with a click, from your desk, so they'll be ready as soon as students arrive
In addition to the Windows-based student module, the Vision Pro teacher module is now capable of supporting browser-based student devices in the classroom. No installation is required since version 8 runs from any web-enabled device - PC, Mac, tablet, or smartphone - that has a browser and a network connection.


HINNAPÄRING
LIITUN HUVIGRUPIGA
KONTAKT MÜÜJAGA
KATSETAMISE TELLIMUS
SOOVIN LISAINFORMATSIOONI
Vaata toote demo

Proovi tasuta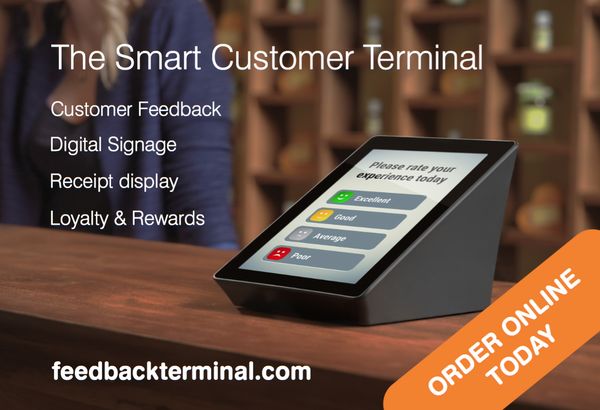 Feedback terminal
Kas klient on Teie toodete/teenustega rahul?

Tagasiside terminalid võimaldavad hinnata teenuse kvaliteeti vajutades puutetundliku ekraanil asuva nuppu. Teenuse pakkuja saab otsekohe kasutada kliendipoolseid hinnanguid teenuse kvaliteedi analüüsi protsessis ja aruandluses.

Tagasiside terminalid on mõeldud paigaldamiseks klienditeenindamise asukohtades, näiteks kassa juures või müüja laual. Terminal võtab hinnangud vastu ja saadab need läbi interneti keskserverisse.

Tänu süsteemi arhitektuurile, mis põhineb tsentraalsel andmebaasil, ja veebipõhise kasutaja liidese kasutamisele on võimalik käsitleda ja töödelda andmeid koikide klienditeenindamise asukohtade kohta integreeritult. Veebipõhine administraatori liides võimaldab halata informatsiooni klienditeenindamise asukohtaide kohta, kirjeldada töötajate andmeid ja määrata nende juurdepääsu õigusi.

Terminalis töötab standartne operatsioon süsteem Android, see võimaldab luua erinevaid ärirakendusi ja neid kasutada integreeritult etevõtte ariprotsessidega, või luua vajalikud boonussüsteeme, mis võimaldavad hinnata ja premeerida parimaid töötajaid. Sellisel moel saab oluliselt lisada lahendusele lisaväärtust ja kohandada süsteemi kasutamist vastavalt etevõtte vajadustele. Juhtkond või kliendihaldurid saavad ligipääsu veebipõhise programmile, mis annab võimaluse vaadata hinnaguid reaalajas, analüüsida hinnanguid ja genereerida erinevaid raporteid. Süsteem võimaldab viivitamatult reageerida teeninduse kvaliteedi langusele ja alustada probleemi lahendamisega. See võimaldab minimiseerida firmale tekkitatud kahju seoses langenud teeninduse kvaliteediga.

Andmed on kättesaadavad asukohtade kohta (kaupluste kohta), kassade kohta (kui on asukohas rohkem kui üks kassa) ja teenindajate kohta (kui päeva jooksul töötab ühe kassaga mitu teenindajat).

Tagasiside terminal on varustatud puutetundliku ekraaniga. Reeglina seade disainitakse vastavalt kasutaja nõuetele, kuvatakse tekst vajalikus keeles ja paigaldatakse kasutaja logo. Saab arvestada ka teisi kasutaja poolt määratuid vajadusi seadme üdlises disainis, näiteks värvid, pildid, videod või muud graafilised või meedia elemendid. Vastavalt nende nõutele koostöös kasutajaga valmistatakse ekraani disain, mis kuvatakse seade ekraanile.

Paljud huvilised küsivad - Milleks on vaja sellist süsteemi, mida see meile annab ?
Meie süsteem oluliselt erineb kasutatavatest süsteemidest: suurem osa süsteemidest on andmete kogumise süsteemid, andmeid kogutakse mingi aja jooksul ja siis, näiteks kvartali lõpus neid töödeldakse, analüüsitakse ja genereeritakse aruanded. Meie süsteem on pigem pidev kvaliteedi taseme monitooringu süsteem: andmed saadetakse kohe serverisse ja aruannete genereerimine toimub online reziimis meie serveris. Kliendihaldur saab kohe analüüsida kvaliteedi taset ja muutuste trende vaadates valmis genereerituid aruandeid.
Süsteemi kasutamine lisab Teie ärile lisaväärtust, sest Teie kliendid näevad, et Teie pidevalt jälgite teenuse kvaliteeti, hoolite oma klientidest ja olete huvitatud parendada oma teenuste kvaliteeti. Kliendid alati võrdlevad turul konkureerivaid teenusi, ja kui see süsteem eristab Teid konkurentidest, siis see on suur Teie ärieelis.
Süsteemi saab integreerida Teie äriprotsessidega, mis on väga soovitav, et saavutada maksimaaset tulemust süsteemi kasutamisest. Operatsiooni süsteemi Android kasutamine tagab süsteemile avatud arhitektuuri, Teie IT spetsialistid saavad piiramatult laiendada süsteemi võimalusi, lisades erinevaid Android rakendusi.
Süsteemi kasutamine distiplineerib töötajaid, boonusesüsteemi kasutamine motiveerib töötajad parendada oma tööd, vastutada oma töö kvaliteedi eest. Meie kogemuste järgi sellise lahenduse kasutamine tõstab oluliselt töötajate töörahulolu ja motivatsiooni taset, sest see hoiab kokku kulutusi ja aega ning tagab klientide suurema rahulolu.
HINNAPÄRING
LIITUN HUVIGRUPIGA
KONTAKT MÜÜJAGA
KATSETAMISE TELLIMUS
SOOVIN LISAINFORMATSIOONI
| | | | |
| --- | --- | --- | --- |
| | | | Gain the benefits of a unified approach to IAM |

Identity and Access Management
Mitigate risk, secure data, meet uptime requirements and satisfy compliance by giving users access to data and applications they need. Identity and access management (IAM) can be driven by business needs, not IT capabilities. With Identity Manager you can unify security policies and satisfy governance needs— today and into the future.


HINNAPÄRING
LIITUN HUVIGRUPIGA
KONTAKT MÜÜJAGA
KATSETAMISE TELLIMUS
SOOVIN LISAINFORMATSIOONI
Vaata toote demo

Proovi tasuta

| | | | |
| --- | --- | --- | --- |
| | | | Visualize, analyze and optimize your virtual infrastructure |

Foglight for Virtualization, Enterprise Edition
Optimize performance, plan for growth, track changes and allocate costs across virtual, physical and cloud environments. Foglight for Virtualization, Enterprise Edition, provides the holistic insight you need into the health, risk and efficiency of your virtual infrastructure. Reduce operational costs, speed deployments, reduce the performance impact of changes and simplify the complexity of your data center infrastructure with end-to-everything visualization. And with virtual network switch support, administrators get full visibility into bottlenecks, network traffic information and bandwidth issues so problems can be addressed before customers are impacted.


HINNAPÄRING
LIITUN HUVIGRUPIGA
KONTAKT MÜÜJAGA
KATSETAMISE TELLIMUS
SOOVIN LISAINFORMATSIOONI
Vaata toote demo

Proovi tasuta

| | | | |
| --- | --- | --- | --- |
| | | | Migrate your data the safe, fast and easy way |

Secure Copy
Secure Copy is an automated solution for migrating data, shares, printers and more with security intact. It gives you the flexibility to control how data is migrated and doesn't require the use of agents or scripts. Secure Copy enables you to migrate data from one server to another, consolidate file servers or move data to an NAS/SAN device, quickly, safely and easily. Unlike native tools, Secure Copy's architecture dramatically shortens the time it takes to complete a migration. The solution also provides intuitive reporting that empowers you to manage data migration projects at any level of complexity.


HINNAPÄRING
LIITUN HUVIGRUPIGA
KONTAKT MÜÜJAGA
KATSETAMISE TELLIMUS
SOOVIN LISAINFORMATSIOONI
Vaata toote demo

Proovi tasuta

| | | | |
| --- | --- | --- | --- |
| | | | Industry-leading data modeling tool to access, analyze, and optimize enterprise data. |

ER/Studio Data Architect
Round-trip database support gives ER/Studio Data Architect users the power to easily reverse- and forward-engineer, compare and merge, and visually document data assets across multiple platforms and data sources. ER/Studio enables data professionals to better manage data models and metadata in complex and dynamic enterprise environments.

Enterprise data can be more effectively leveraged as a corporate asset, while compliance is supported for business standards and mandatory regulations -- essential factors in an organizational data governance program. Multiple types of data sources are supported ranging from those residing in the cloud to data sources residing on mobile phones. A variety of database platforms, including traditional RDBMS and big data technologies such as MongoDB and Hadoop Hive, can be imported and integrated into shared models and metadata definitions.


HINNAPÄRING
LIITUN HUVIGRUPIGA
KONTAKT MÜÜJAGA
KATSETAMISE TELLIMUS
SOOVIN LISAINFORMATSIOONI
Vaata toote demo

Proovi tasuta

| | | | |
| --- | --- | --- | --- |
| | | | Single platform for managing Microsoft server security in real time |
Security Explorer


Security Explorer provides a single console for managing access controls, permissions and security across Microsoft platforms that span multiple servers. The product provides a broad array of security enhancements including the ability to identify "who" has rights to resources across the entire organization. It also provides the ability to grant, revoke, clone, modify and overwrite permissions quickly and from a central location. Unlike native tools, Security Explorer provides the ability to back up and restore permissions only, ensuring the integrity of data. To help meet auditing requirements, Security Explorer provides convenient reports that can be pulled on the fly. Last, the product's cleanup capabilities address common post-migration security issues.


HINNAPÄRING
LIITUN HUVIGRUPIGA
KONTAKT MÜÜJAGA
KATSETAMISE TELLIMUS
SOOVIN LISAINFORMATSIOONI
Vaata toote demo

Proovi tasuta

| | | | |
| --- | --- | --- | --- |
| | | | The fastest way to develop cross-platform Native Apps |

RAD Studio 10
RAD Studio is the fastest way to write, compile, package and develop cross-platform native applications with flexible cloud services and broad IoT connectivity from a single codebase. Fast Developers pick RAD Studio because it delivers Enterprise Strong Development and deployment 5x faster across desktop, server, mobile, cloud, and database platforms.


HINNAPÄRING
LIITUN HUVIGRUPIGA
KONTAKT MÜÜJAGA
KATSETAMISE TELLIMUS
SOOVIN LISAINFORMATSIOONI
Vaata toote demo

Proovi tasuta

| | | | |
| --- | --- | --- | --- |
| | | | SQL Server monitoring that's continuous, web-based and scalable |

Foglight for SQL Server
Foglight Performance Investigator for SQL Server enables you spend less time on performance management tasks with comprehensive monitoring, non-stop data collection, and instant metric-sensitive alerts and scalable, easy to configure workload. Collect and investigate data on baselines, lock analysis and change tracking with multidimensional drilldowns and historical session data investigations. With intuitive interfaces, built-in expert guidance and easy-to-follow workflows, your able to quickly identify and fix problem servers and resource areas before they impact your business. Quickly access all the information you need to achieve optimal SQL Server performance.


HINNAPÄRING
LIITUN HUVIGRUPIGA
KONTAKT MÜÜJAGA
KATSETAMISE TELLIMUS
SOOVIN LISAINFORMATSIOONI
Vaata toote demo

Proovi tasuta

| | | | |
| --- | --- | --- | --- |
| | | | Optimize Oracle performance with nonstop data collection and instant metric-sensitive alerts |
Foglight for Oracle


Oracle monitoring tools get an enterprise view of database health and automate performance analysis to quickly identify and fix problem servers and resource areas. With this robust Oracle monitoring tool, you'll maximize database performance and availability. And with Foglight's new SQL Performance Investigator (PI) functionality, you get a highly scalable and easily configurable SQL workload performance analytics engine.


HINNAPÄRING
LIITUN HUVIGRUPIGA
KONTAKT MÜÜJAGA
KATSETAMISE TELLIMUS
SOOVIN LISAINFORMATSIOONI
Vaata toote demo

Proovi tasuta

| | | | |
| --- | --- | --- | --- |
| | | | Quest Authentication Services |
Quest Authentication Services


Authentication Services, a part of the Privileged Access Suite for Unix, addresses authentication by extending the security and compliance of Active Directory to Unix, Linux and Mac OS X, as well as to many enterprise applications.

Some of the largest and most complex global environments rely on Authentication Services to achieve compliance with cross-platform access control; improve operational efficiency with centralized authentication and single sign-on; and unify identities and consolidate directories for simplified identity and access management.

Main fetures:
Active Directory for Unix, Linux and Mac – Authentication Services extends the authentication, authorization and administration infrastructure of AD to the rest of the enterprise, enabling Unix, Linux and Mac OS X systems to act as full citizens within AD. Authentication Services supports an extremely long list of Unix, Linux and Mac operating systems.View the complete list here.
Audit, alerting and change tracking – When Unix, Linux and Mac OS X systems join Active Directory, it becomes vitally important for organizations to be able to prove they have control over non-Windows data stored in AD. Authentication Services is the only solution that fully addresses this requirement by delivering the ability to audit, alert on and show detailed change history of Unix-centric information now being managed by AD.
Administration, configuration and management – Authentication Services provides an intuitive, platform-agnostic web console; centralized access to an AD bridge; and root delegation capabilities.
Group Policy for Unix, Linux and Mac – Authentication Services includes a patented framework for extending policy-based management (through Windows Group Policy) to non-Windows systems, including Group Policy for Mac OS X.
Access control–Authentication Services extends the native access control capabilities of Active Directory to non-Windows systems, providing central control over which AD users are permitted to authenticate to which non-Windows systems.
Deployment flexibility – You can deploy Authentication Services in an optimized way that best suits your environment, objectives, challenges and timelines. Options range from a non-impact, "schema-less" deployment to a fully rationalized, "get to one" environment.
Single sign-on (SSO) – Authentication Services adds Kerberos and LDAP to Unix, Linux and Mac OS X systems in the same way that these protocols are used in Windows. In addition, the product provides out-of-the-box single sign-on for a number of applications, including SAP, Siebel and DB2.
NIS migration and directory consolidation – The solution streamlines the process of joining Unix/Linux/Mac OS X systems and users to the AD domain and facilitates migration from multiple authentication mechanisms (including NIS), identities and directories to a single Active Directory-based infrastructure for all systems and users.
Simplified identity and access management – Authentication Services extends the value of your existing investment in Active Directory and AD-optimized identity administration tools. In addition, Authentication Services can dramatically simplify an existing meta-directory, security framework or synchronization solution.
HINNAPÄRING
LIITUN HUVIGRUPIGA
KONTAKT MÜÜJAGA
KATSETAMISE TELLIMUS
SOOVIN LISAINFORMATSIOONI
| | | | |
| --- | --- | --- | --- |
| | | | The Ultimate Application Development Platform for Windows 10, Mac, Mobile, and IoT |

Delphi 10
Delphi is the nimble Object Pascal IDE and component library for cross-platform native app development with flexible Cloud services and broad IoT connectivity. Compile natively for fast Linux and Windows server support and reach the widest audience with App Store support for Windows 10, macOS, iOS and Android - all from the same native code base - in the first IDE with integrated Windows 10 Desktop Bridge Support. Fast developers choose Delphi for Enterprise Strong Development™ and enjoy 5x faster development cycles across desktop, server, mobile, cloud, and database platforms.


HINNAPÄRING
LIITUN HUVIGRUPIGA
KONTAKT MÜÜJAGA
KATSETAMISE TELLIMUS
SOOVIN LISAINFORMATSIOONI
Vaata toote demo

Proovi tasuta

| | | | |
| --- | --- | --- | --- |
| | | | Abiks võrguadministraatorile |

NetOp Remote Control
Danware kaug-administreerimis tarkvara kasutades ei ole teil enam vaja jooksutada inimesi arvutite vahel. Meie aitame neil töötada arvutitel reaal-ajas olenemata vahemaast ja platvormist. NetOp võimaldab kasutajatel näha teise arvuti ekraanil toimuvat ja juhtida hiirt või klaviatuuri kas või teisel pool maakera. NetOp kasutajad saavad teostada kõiki toiminguid teises arvutis just-kui istuksid nad ise selle taga. Koos paljude lisafunktsionaalsustega on NetOp väga vajalik töövahend. Tarkvara koosneb kahest põhimoodulist, Klient ja Server. Server moodul installeeritakse arvutitesse, mida te soovite eemalt kontrollida. Klient on kasutajaliides arvutis mida Teie parajasti kasutate.

Kolm lisamoodulit, Gateway, Name Server ja Security Server on samuti saadaval lisa funktsionaalsuse tagamiseks.

Kolm lihtsat põhjust miks NetOp Remote Control loetakse parimaks teiste sarnaste toodete hulgas on:
Kiirus
Meie tooted töötavad kiirelt reaal-ajas. erinevate uuringute põhjal on NetOp üks kiiremaid omal alal.
Turvalisus
Turvalisus on alati olnud eelduseks taolistel tarkvaradel, mistõttu oleme teinud kõik, et see ei kujuneks probleemiks. Kasutajatele ja grupidele antavad õigused keelavad juhusliku juurdepääsu süsteemile.
Stabiilsus
Kuna suured äriettevõtted kasutavad meie tarkvara iga päev on stabiilse töö nõue olnud meile eelduseks.
HINNAPÄRING
LIITUN HUVIGRUPIGA
KONTAKT MÜÜJAGA
KATSETAMISE TELLIMUS
SOOVIN LISAINFORMATSIOONI
Proovi tasuta

Quest Acquires Development & Database Market Leader ApexSQL to Enhance Information Management Business Solution Offerings
18.04.2019 - ALISO VIEJO, CALIF. – April 18, 2019 – Quest Software, a global systems management, data protection and security software provider, today announced the acquisition of ApexSQL, a market leader in SQL Server development and database tools. The acquisition of ApexSQL strengthens the Quest Information Management business unit's portfolio of solutions that give DBAs and developers the tools to securely automate the management, movement, and performance of SQL Server database infrastructures to increase productivity and reduce costs. In addition to SQL Server, Quest's Information Management business unit has a broad range of database management and performance monitoring solutions that support a variety of applications and database platforms, including Oracle, MySQL, PostGreSQL, MongoDB, and others. Loe lisa ...




One Identity Bolsters Unix Security with New Release of Authentication Services
20.02.2019 - ALISO VIEJO, Calif. – February 20, 2019 – One Identity, a Quest Software business and proven leader in helping organizations get identity and access management (IAM) right, today announced the availability of Authentication Services 4.2, a solution that extends the authentication, authorization and administration of Active Directory (AD) to Unix, Linux and Mac environments. Authentication Services 4.2 includes several new security measures, including unlimited use of One Identity's SaaS-based two-factor authentication (2FA) solution, as well as increased support for Kerberos and smart cards. It also provides additional platform support for ARM processors, Microsoft Azure AD Domain Services and FreeBSD. With Authentication Services 4.2, customers can extend the security and administration of Microsoft AD. Authentication Services 4.2 will be demonstrated at the One Identity booth #5670 at RSA Conference, being held March 4-8, 2019 in San Francisco. Loe lisa ...




Delphix Brings Even More Speed, Security to Amazon Relational Database Service
28.11.2018 - LAS VEGAS, Nev. @ AWS re:Invent 2018, November 28, 2018 - Delphix, the company accelerating innovation through DataOps, today announced the availability of the Delphix Dynamic Data Platform (DDDP) leveraging Amazon Relational Database Service (Amazon RDS). Building on the long-standing relationship between Delphix and Amazon Web Services, Inc. (AWS), this innovative solution will provide cloud development teams at global enterprises with the fast, secure data they need to bring cloud-native applications to market with the speed required to win in today's Digital Economy. Loe lisa ...




Dynatrace expands Amazon Web Services visibility with Amazon CloudWatch and AWS CloudTrail
26.11.2018 - BOSTON, Mass. – November 26, 2018 — Software intelligence company Dynatrace, today announced the extension of the platform's cloud visibility and contextual data ingestion from Amazon Web Services (AWS) with Amazon CloudWatch (CloudWatch) and AWS CloudTrail (CloudTrail). The addition of AWS metrics and events from the two services enriches the high-fidelity data that Dynatrace processes, further enhancing contextual problem identification and root cause analysis. Enterprises can enhance their enterprise cloud visibility within a single platform, get immediate answers, and shift the focus from troubleshooting to accelerating innovation and digital transformation. Loe lisa ...




DataCore Named a Leader in Software-Defined Storage and Hyperconverged Infrastructure by WhatMatrix
20.11.2018 - FT LAUDERDALE, FL, November 20, 2018 – DataCore Software has been named a leader in the 2018 WhatMatrix SDS & HCI Landscape Report. The report is the result of a rigorous, independent evaluation that used 115 check-points to judge 12 software-defined storage (SDS) and hyperconverged infrastructure (HCI) platforms. Loe lisa ...




Announcing Netop Remote Control version 12.74 and Netop WebConnect version 3.02
10.10.2018 - Netop Remote Control version 12.74 allows administrators to create and manage application whitelists in the Netop Remote Control Portal. Introduced with version 12.72, the whitelisted applications feature provides additional granularity for role-based permissions, giving users the ability to restrict remote control sessions to a single application (or a list of applications) on the Host device. Loe lisa ...




ObserveIT Accelerates Insider Threat Detection and Prevention with New Actionable Analytics and User Activity Profiling to Thwart Threats from Within
19.04.2017 - BOSTON, April 19, 2017 /PRNewswire/ -- ObserveIT, the leading insider threat monitoring and analytics solution provider with more than 1,500 customers around the world, today unveiled new actionable analytics and the ability to proactively block risky, out-of-policy activities by insiders giving security and IT teams powerful weapons in the fight to make their organizations more secure. With the innovations now available in ObserveIT 7.0, the company continues its leadership in enabling its customers to ensure privileged users, vendors, consultants and business users do not act in negligent or malicious ways that put their businesses at risk. Loe lisa ...




Embarcadero Announces Dedicated Developer Strategy
09.03.2016 - Austin, Texas – March 9, 2016 – Embarcadero Technologies (recently acquired by IDERA), a leading provider of software solutions for application development, today announced it is now exclusively focused on the developer tools market. The company will continue to build on its legacy in Delphi and C++, dedicating all of its product and engineering resources to support developers who build and maintain the world's most critical enterprise applications. Loe lisa ...




Lugupidamisega,

Software Engineering Center OÜ
Rannaniidu 12,
13516 Tallinn, Estonia
Tel: +372 5014734
Email: oeljas@sec.ee
Skype: olev.eljas
http://www.sec.ee