Täname Teid huvi eest!

Allpool leiate uuemat informatsiooni meie partnerite, toodete, seminaride jne. kohta.
Juhul, kui olete huvitatud, siis palun võtke meiega ühendust.
| | | | |
| --- | --- | --- | --- |
| | | | Monitor Up/Down Status, Availability, and Performance At-a-Glance |
WhatsUp Gold


Availability and Performance Monitoring for Networks, Systems, Applications and the Cloud
WhatsUp® Gold provides complete visibility to everything that's connected to your network. The unique interactive map lets you see network devices, servers, virtual machines, cloud and wireless environments in context so you can diagnose issues with pinpoint accuracy.
Monitor Devices
Servers, routers, storage, wireless, virtual, cloud devices and more.
Monitor Applications
Alert and report on performance, response times and an array of other metrics.
Analyze Network Traffic
Identify bandwidth hogs and suspicious connections.
Manage Configurations
Automate configuration backups and restores to reduce errors and support compliance requirements.
Find and Fix Problems Fast
Get an instant view of what's up and what's down in all of your environments—in the cloud or on-premises. Know the status of network devices, systems and applications at-a-glance. Get smarter alerting from topology-aware monitoring that understands network dependencies so you receive important alerts, not worthless alert storms. Send your team alerts through SMS, email, web or Slack so they know about issues before users report them.
Discover and Map Your Entire Network—Automatically
See network resources, connectivity, and dependencies.
Empower Your Team with Custom Dashboards
Get data easily and take action quickly.
Stay Ahead of Network Performance with Customizable Alerts
Know about problems before service tickets come in.
HINNAPÄRING
KONTAKT MÜÜJAGA
Vaata toote demo

Proovi tasuta

| | | | |
| --- | --- | --- | --- |
| | | | Comprehensive systems management for any network-connected device |

KACE Systems Management Appliance
Streamline IT asset management, secure network-connected devices, and service end-user systems more efficiently. It's all possible with the industry's only appliance-based comprehensive endpoint systems management solution built for growing organizations. With the KACE K1000 Systems Management Appliance, you can:
Accurately inventory all hardware and software
Reduce risk of security breaches with automated patching of mission-critical applications and operating systems
Assure software license compliance
Easy to use and fast to implement, the K1000 gives you more time to innovate. How? By automating endpoint management and endpoint protection of your increasing variety and number of devices. And, to add more value to your endpoint systems management solution, explore KACE Essential Services.


HINNAPÄRING
KONTAKT MÜÜJAGA
Vaata toote demo

Proovi tasuta


NetOp Vision Pro
Vision Pro is the latest version of NetOp School.
Vision Pro offers all the same features as Netop Vision (Vision features), the classroom management software that teachers across the world depend on when using technology in the classroom. But it goes further. Three powerful enhancements make the difference:
High-Speed Screen Sharing: Share any program you're running with your students, from AutoCAD to QuickTime
Ultimate Web Control: Vision Pro gives you the power to customize your students' access to the Internet case by case, a necessity for using technology in the classroom
Class-Wide Remote Login: Now you can get all your computers logged in with a click, from your desk, so they'll be ready as soon as students arrive
In addition to the Windows-based student module, the Vision Pro teacher module is now capable of supporting browser-based student devices in the classroom. No installation is required since version 8 runs from any web-enabled device - PC, Mac, tablet, or smartphone - that has a browser and a network connection.


HINNAPÄRING
KONTAKT MÜÜJAGA
Vaata toote demo

Proovi tasuta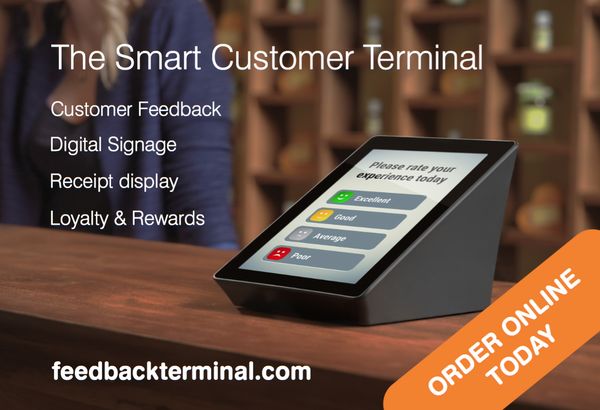 Feedback terminal
Kas klient on Teie toodete/teenustega rahul?

Tagasiside terminalid võimaldavad hinnata teenuse kvaliteeti vajutades puutetundliku ekraanil asuva nuppu. Teenuse pakkuja saab otsekohe kasutada kliendipoolseid hinnanguid teenuse kvaliteedi analüüsi protsessis ja aruandluses.

Tagasiside terminalid on mõeldud paigaldamiseks klienditeenindamise asukohtades, näiteks kassa juures või müüja laual. Terminal võtab hinnangud vastu ja saadab need läbi interneti keskserverisse.

Tänu süsteemi arhitektuurile, mis põhineb tsentraalsel andmebaasil, ja veebipõhise kasutaja liidese kasutamisele on võimalik käsitleda ja töödelda andmeid koikide klienditeenindamise asukohtade kohta integreeritult. Veebipõhine administraatori liides võimaldab halata informatsiooni klienditeenindamise asukohtaide kohta, kirjeldada töötajate andmeid ja määrata nende juurdepääsu õigusi.

Terminalis töötab standartne operatsioon süsteem Android, see võimaldab luua erinevaid ärirakendusi ja neid kasutada integreeritult etevõtte ariprotsessidega, või luua vajalikud boonussüsteeme, mis võimaldavad hinnata ja premeerida parimaid töötajaid. Sellisel moel saab oluliselt lisada lahendusele lisaväärtust ja kohandada süsteemi kasutamist vastavalt etevõtte vajadustele. Juhtkond või kliendihaldurid saavad ligipääsu veebipõhise programmile, mis annab võimaluse vaadata hinnaguid reaalajas, analüüsida hinnanguid ja genereerida erinevaid raporteid. Süsteem võimaldab viivitamatult reageerida teeninduse kvaliteedi langusele ja alustada probleemi lahendamisega. See võimaldab minimiseerida firmale tekkitatud kahju seoses langenud teeninduse kvaliteediga.

Andmed on kättesaadavad asukohtade kohta (kaupluste kohta), kassade kohta (kui on asukohas rohkem kui üks kassa) ja teenindajate kohta (kui päeva jooksul töötab ühe kassaga mitu teenindajat).

Tagasiside terminal on varustatud puutetundliku ekraaniga. Reeglina seade disainitakse vastavalt kasutaja nõuetele, kuvatakse tekst vajalikus keeles ja paigaldatakse kasutaja logo. Saab arvestada ka teisi kasutaja poolt määratuid vajadusi seadme üdlises disainis, näiteks värvid, pildid, videod või muud graafilised või meedia elemendid. Vastavalt nende nõutele koostöös kasutajaga valmistatakse ekraani disain, mis kuvatakse seade ekraanile.

Paljud huvilised küsivad - Milleks on vaja sellist süsteemi, mida see meile annab ?
Meie süsteem oluliselt erineb kasutatavatest süsteemidest: suurem osa süsteemidest on andmete kogumise süsteemid, andmeid kogutakse mingi aja jooksul ja siis, näiteks kvartali lõpus neid töödeldakse, analüüsitakse ja genereeritakse aruanded. Meie süsteem on pigem pidev kvaliteedi taseme monitooringu süsteem: andmed saadetakse kohe serverisse ja aruannete genereerimine toimub online reziimis meie serveris. Kliendihaldur saab kohe analüüsida kvaliteedi taset ja muutuste trende vaadates valmis genereerituid aruandeid.
Süsteemi kasutamine lisab Teie ärile lisaväärtust, sest Teie kliendid näevad, et Teie pidevalt jälgite teenuse kvaliteeti, hoolite oma klientidest ja olete huvitatud parendada oma teenuste kvaliteeti. Kliendid alati võrdlevad turul konkureerivaid teenusi, ja kui see süsteem eristab Teid konkurentidest, siis see on suur Teie ärieelis.
Süsteemi saab integreerida Teie äriprotsessidega, mis on väga soovitav, et saavutada maksimaaset tulemust süsteemi kasutamisest. Operatsiooni süsteemi Android kasutamine tagab süsteemile avatud arhitektuuri, Teie IT spetsialistid saavad piiramatult laiendada süsteemi võimalusi, lisades erinevaid Android rakendusi.
Süsteemi kasutamine distiplineerib töötajaid, boonusesüsteemi kasutamine motiveerib töötajad parendada oma tööd, vastutada oma töö kvaliteedi eest. Meie kogemuste järgi sellise lahenduse kasutamine tõstab oluliselt töötajate töörahulolu ja motivatsiooni taset, sest see hoiab kokku kulutusi ja aega ning tagab klientide suurema rahulolu.
HINNAPÄRING
KONTAKT MÜÜJAGA
| | | | |
| --- | --- | --- | --- |
| | | | Gain the benefits of a unified approach to IAM |

Identity and Access Management
Mitigate risk, secure data, meet uptime requirements and satisfy compliance by giving users access to data and applications they need. Identity and access management (IAM) can be driven by business needs, not IT capabilities. With Identity Manager you can unify security policies and satisfy governance needs— today and into the future.


HINNAPÄRING
KONTAKT MÜÜJAGA
Vaata toote demo

Proovi tasuta

| | | | |
| --- | --- | --- | --- |
| | | | Visualize, analyze and optimize your virtual infrastructure |

Foglight for Virtualization, Enterprise Edition
Optimize performance, plan for growth, track changes and allocate costs across virtual, physical and cloud environments. Foglight for Virtualization, Enterprise Edition, provides the holistic insight you need into the health, risk and efficiency of your virtual infrastructure. Reduce operational costs, speed deployments, reduce the performance impact of changes and simplify the complexity of your data center infrastructure with end-to-everything visualization. And with virtual network switch support, administrators get full visibility into bottlenecks, network traffic information and bandwidth issues so problems can be addressed before customers are impacted.


HINNAPÄRING
KONTAKT MÜÜJAGA
Vaata toote demo

Proovi tasuta

| | | | |
| --- | --- | --- | --- |
| | | | The fastest way to develop cross-platform Native Apps |

RAD Studio
RAD Studio is the fastest way to write, compile, package and develop cross-platform native applications with flexible cloud services and broad IoT connectivity from a single codebase. Fast Developers pick RAD Studio because it delivers Enterprise Strong Development and deployment 5x faster across desktop, server, mobile, cloud, and database platforms.


HINNAPÄRING
KONTAKT MÜÜJAGA
Vaata toote demo

Proovi tasuta

| | | | |
| --- | --- | --- | --- |
| | | | Optimize Oracle performance with nonstop data collection and instant metric-sensitive alerts |
Foglight for Oracle


Oracle monitoring tools get an enterprise view of database health and automate performance analysis to quickly identify and fix problem servers and resource areas. With this robust Oracle monitoring tool, you'll maximize database performance and availability. And with Foglight's new SQL Performance Investigator (PI) functionality, you get a highly scalable and easily configurable SQL workload performance analytics engine.


HINNAPÄRING
KONTAKT MÜÜJAGA
Vaata toote demo

Proovi tasuta

| | | | |
| --- | --- | --- | --- |
| | | | Quest Authentication Services |
Quest Authentication Services


Authentication Services, a part of the Privileged Access Suite for Unix, addresses authentication by extending the security and compliance of Active Directory to Unix, Linux and Mac OS X, as well as to many enterprise applications.

Some of the largest and most complex global environments rely on Authentication Services to achieve compliance with cross-platform access control; improve operational efficiency with centralized authentication and single sign-on; and unify identities and consolidate directories for simplified identity and access management.

Main fetures:
Active Directory for Unix, Linux and Mac – Authentication Services extends the authentication, authorization and administration infrastructure of AD to the rest of the enterprise, enabling Unix, Linux and Mac OS X systems to act as full citizens within AD. Authentication Services supports an extremely long list of Unix, Linux and Mac operating systems.View the complete list here.
Audit, alerting and change tracking – When Unix, Linux and Mac OS X systems join Active Directory, it becomes vitally important for organizations to be able to prove they have control over non-Windows data stored in AD. Authentication Services is the only solution that fully addresses this requirement by delivering the ability to audit, alert on and show detailed change history of Unix-centric information now being managed by AD.
Administration, configuration and management – Authentication Services provides an intuitive, platform-agnostic web console; centralized access to an AD bridge; and root delegation capabilities.
Group Policy for Unix, Linux and Mac – Authentication Services includes a patented framework for extending policy-based management (through Windows Group Policy) to non-Windows systems, including Group Policy for Mac OS X.
Access control–Authentication Services extends the native access control capabilities of Active Directory to non-Windows systems, providing central control over which AD users are permitted to authenticate to which non-Windows systems.
Deployment flexibility – You can deploy Authentication Services in an optimized way that best suits your environment, objectives, challenges and timelines. Options range from a non-impact, "schema-less" deployment to a fully rationalized, "get to one" environment.
Single sign-on (SSO) – Authentication Services adds Kerberos and LDAP to Unix, Linux and Mac OS X systems in the same way that these protocols are used in Windows. In addition, the product provides out-of-the-box single sign-on for a number of applications, including SAP, Siebel and DB2.
NIS migration and directory consolidation – The solution streamlines the process of joining Unix/Linux/Mac OS X systems and users to the AD domain and facilitates migration from multiple authentication mechanisms (including NIS), identities and directories to a single Active Directory-based infrastructure for all systems and users.
Simplified identity and access management – Authentication Services extends the value of your existing investment in Active Directory and AD-optimized identity administration tools. In addition, Authentication Services can dramatically simplify an existing meta-directory, security framework or synchronization solution.
HINNAPÄRING
KONTAKT MÜÜJAGA
| | | | |
| --- | --- | --- | --- |
| | | | The Ultimate Application Development Platform for Windows, Mac, Mobile, and IoT |

Delphi
Delphi is the nimble Object Pascal IDE and component library for cross-platform native app development with flexible Cloud services and broad IoT connectivity. Compile natively for fast Linux and Windows server support and reach the widest audience with App Store support for Windows, macOS, iOS and Android - all from the same native code base - in the first IDE with integrated Windows Desktop Bridge Support. Fast developers choose Delphi for Enterprise Strong Development™ and enjoy 5x faster development cycles across desktop, server, mobile, cloud, and database platforms.


HINNAPÄRING
KONTAKT MÜÜJAGA
Vaata toote demo

Proovi tasuta

| | | | |
| --- | --- | --- | --- |
| | | | Abiks võrguadministraatorile |

NetOp Remote Control
Danware kaug-administreerimis tarkvara kasutades ei ole teil enam vaja jooksutada inimesi arvutite vahel. Meie aitame neil töötada arvutitel reaal-ajas olenemata vahemaast ja platvormist. NetOp võimaldab kasutajatel näha teise arvuti ekraanil toimuvat ja juhtida hiirt või klaviatuuri kas või teisel pool maakera. NetOp kasutajad saavad teostada kõiki toiminguid teises arvutis just-kui istuksid nad ise selle taga. Koos paljude lisafunktsionaalsustega on NetOp väga vajalik töövahend. Tarkvara koosneb kahest põhimoodulist, Klient ja Server. Server moodul installeeritakse arvutitesse, mida te soovite eemalt kontrollida. Klient on kasutajaliides arvutis mida Teie parajasti kasutate.

Kolm lisamoodulit, Gateway, Name Server ja Security Server on samuti saadaval lisa funktsionaalsuse tagamiseks.

Kolm lihtsat põhjust miks NetOp Remote Control loetakse parimaks teiste sarnaste toodete hulgas on:
Kiirus
Meie tooted töötavad kiirelt reaal-ajas. erinevate uuringute põhjal on NetOp üks kiiremaid omal alal.
Turvalisus
Turvalisus on alati olnud eelduseks taolistel tarkvaradel, mistõttu oleme teinud kõik, et see ei kujuneks probleemiks. Kasutajatele ja grupidele antavad õigused keelavad juhusliku juurdepääsu süsteemile.
Stabiilsus
Kuna suured äriettevõtted kasutavad meie tarkvara iga päev on stabiilse töö nõue olnud meile eelduseks.
HINNAPÄRING
KONTAKT MÜÜJAGA
Proovi tasuta

Quest Unveils Toad Data Point 5.6, Accelerating Data Democratization in the Enterprise
06.12.2022 - ALISO VIEJO, CALIF. – Dec. 6, 2021 – Quest Software, a global systems management, data protection, and security software provider, today announced the availability of Toad Data Point 5.6, a cross-platform, self-service, data preparation tool that empowers business analysts to retrieve and work with data from disparate sources in a simple and effective way. Loe lisa ...




Progress Wins 2021 Top Tech Awards for Its Culture, Inclusivity, Social Responsibility and Leadership
11.11.2021 - ?BEDFORD, Mass., Nov. 11, 2021 (GLOBE NEWSWIRE) -- Progress (NASDAQ: PRGS), the leading provider of products to develop, deploy and manage high-impact applications, today announced it has been recognized by MassTLC as a 2021 Tech Top 50 company in four categories: Company Culture, Inclusivity Impact, Tech for Good: Social Responsibility and Leadership. The Tech Top 50 recognizes the region's tech companies and leaders who have made a significant impact during the past year. Loe lisa ...




One Identity Acquires OneLogin, Adding Market-Leading Access Management Solutions to the Industry's only Unified Identity Security Platform
04.10.2021 - ALISO VIEJO, Calif., — October 4, 2021 — One Identity, a leader in unified identity security, today acquired OneLogin, a market-leading provider of Identity Access Management (IAM) solutions, to expand the scope of One Identity's Unified Identity Security Platform. Combined with its existing Privileged Access Management (PAM), Identity Governance and Administration (IGA), and Active Directory Management and Security (ADMS) solutions, the company will now enable customers to take a holistic approach to identity security with trusted, proven technology in each major category. Loe lisa ...




Progress Introduces Log Management Archiving in WhatsUp Gold 2021.1
21.09.2021 - BEDFORD, Mass., Sept. 21, 2021 (GLOBE NEWSWIRE) -- Progress (NASDAQ: PRGS), the leading provider of products to develop, deploy and manage high-impact business applications, today announced the latest release of Progress® WhatsUp® Gold, the award-winning network monitoring software. With today's release, WhatsUp Gold includes major enhancements in usability and security with support for log management archiving along with extended support for OpenID Connect, Microsoft Edge and Cisco Meraki wireless devices. Loe lisa ...




Embarcadero Technologies has announced the General Availability of RAD Studio 11 Alexandria, including Delphi 11 and C++Builder 11
09.09.2021 - RAD Studio 11 Alexandria introduces a number of important new features and enhancements that improve the user experience of the IDE and boost developer productivity, including support for high-DPI 4k+ screens, new Windows features in the VCL along with design-time preview of VCL styles, a new welcome page, a C++ formatter and enhanced cross-language support between Delphi and C++, enhanced FMX designers, a macOS ARM64 native compiler for Delphi, and Edge browser support for FMX on Windows. Loe lisa ...




Dynatrace named a Leader for the 10th consecutive time in Gartner's 2020 Magic Quadrant for Application Performance Monitoring
27.05.2020 - WALTHAM, MA, April 24, 2020 – Software intelligence company, Dynatrace (NYSE: DT), today announced it has been named a Leader in Gartner's 2020 Magic Quadrant for Application Performance Monitoring, with the furthest overall position for Completeness of Vision. This marks the 10th consecutive time Dynatrace has been positioned in the Leaders' quadrant for its Completeness of Vision and Ability to Execute. A complimentary copy of the Gartner 2020 Magic Quadrant for Application Performance Monitoring is available here. Loe lisa ...




Announcing Netop Remote Control version 12.74 and Netop WebConnect version 3.02
10.10.2018 - Netop Remote Control version 12.74 allows administrators to create and manage application whitelists in the Netop Remote Control Portal. Introduced with version 12.72, the whitelisted applications feature provides additional granularity for role-based permissions, giving users the ability to restrict remote control sessions to a single application (or a list of applications) on the Host device. Loe lisa ...




Lugupidamisega,

Software Engineering Center OÜ
Rannaniidu 12,
13516 Tallinn, Estonia
Tel: +372 5014734
Email: oeljas@sec.ee
Skype: olev.eljas
http://www.sec.ee