Thank you very much for your interest!

Please find below the latest information concerning our partners, products, seminars ...
In case you are interested, please contact us.
| | | | |
| --- | --- | --- | --- |
| | | | Monitor Up/Down Status, Availability, and Performance At-a-Glance |
WhatsUp Gold


Availability and Performance Monitoring for Networks, Systems, Applications and the Cloud
WhatsUp® Gold provides complete visibility to everything that's connected to your network. The unique interactive map lets you see network devices, servers, virtual machines, cloud and wireless environments in context so you can diagnose issues with pinpoint accuracy.
Monitor Devices
Servers, routers, storage, wireless, virtual, cloud devices and more.
Monitor Applications
Alert and report on performance, response times and an array of other metrics.
Analyze Network Traffic
Identify bandwidth hogs and suspicious connections.
Manage Configurations
Automate configuration backups and restores to reduce errors and support compliance requirements.
Find and Fix Problems Fast
Get an instant view of what's up and what's down in all of your environments—in the cloud or on-premises. Know the status of network devices, systems and applications at-a-glance. Get smarter alerting from topology-aware monitoring that understands network dependencies so you receive important alerts, not worthless alert storms. Send your team alerts through SMS, email, web or Slack so they know about issues before users report them.
Discover and Map Your Entire Network—Automatically
See network resources, connectivity, and dependencies.
Empower Your Team with Custom Dashboards
Get data easily and take action quickly.
Stay Ahead of Network Performance with Customizable Alerts
Know about problems before service tickets come in.
PRICE REQUEST
CONTACT WITH SALES
View product demo

Free trial

| | | | |
| --- | --- | --- | --- |
| | | | Comprehensive systems management for any network-connected device |

KACE Systems Management Appliance
Streamline IT asset management, secure network-connected devices, and service end-user systems more efficiently. It's all possible with the industry's only appliance-based comprehensive endpoint systems management solution built for growing organizations. With the KACE K1000 Systems Management Appliance, you can:
Accurately inventory all hardware and software
Reduce risk of security breaches with automated patching of mission-critical applications and operating systems
Assure software license compliance
Easy to use and fast to implement, the K1000 gives you more time to innovate. How? By automating endpoint management and endpoint protection of your increasing variety and number of devices. And, to add more value to your endpoint systems management solution, explore KACE Essential Services.


PRICE REQUEST
CONTACT WITH SALES
View product demo

Free trial


NetOp Vision Pro
Vision Pro is the latest version of NetOp School.
Vision Pro offers all the same features as Netop Vision (Vision features), the classroom management software that teachers across the world depend on when using technology in the classroom. But it goes further. Three powerful enhancements make the difference:
High-Speed Screen Sharing: Share any program you're running with your students, from AutoCAD to QuickTime
Ultimate Web Control: Vision Pro gives you the power to customize your students' access to the Internet case by case, a necessity for using technology in the classroom
Class-Wide Remote Login: Now you can get all your computers logged in with a click, from your desk, so they'll be ready as soon as students arrive
In addition to the Windows-based student module, the Vision Pro teacher module is now capable of supporting browser-based student devices in the classroom. No installation is required since version 8 runs from any web-enabled device - PC, Mac, tablet, or smartphone - that has a browser and a network connection.


PRICE REQUEST
CONTACT WITH SALES
View product demo

Free trial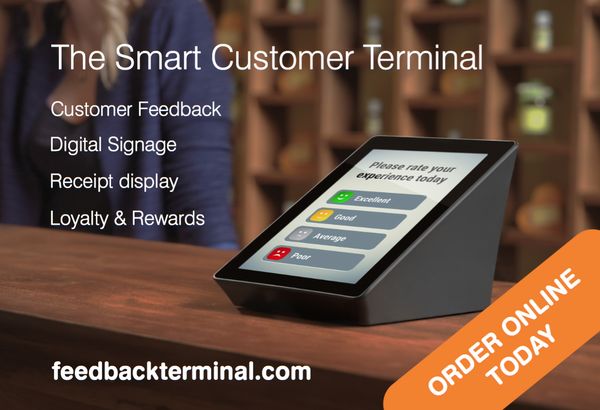 Feedback terminal
Do you know how satisfied are your clients ?

Customer feedback device allows customers to give feedback easily, pressing just one button. Customer feedback device provides the possibility for enterprises to collect the most valuable and qualitative feedback – at the moment of service experience.

Feedback terminal software is a centralized system, which is used for feedback data gathering from points of services. Web-based application is used mainly for feedback data analyze and report generation, also some special features as calculation of work time of employees, employee on-line monitoring are availble. Web-based application is also used for managing points of services, employees accounts, access rights. Reports generation is available in different formats: date/time based reports, employee based reports or point of service based reports. System also provides API for retrieving feedback data and work time of employees for integration with other enterprise-based applications. Open architecture, based on Android, allows to add needed applications by customer itself.

Due to touch panel it is very easy to change the design for the device, for example place customer logo, use different colors or change questions to achieve different requirements from customer side.


PRICE REQUEST
CONTACT WITH SALES
| | | | |
| --- | --- | --- | --- |
| | | | Gain the benefits of a unified approach to IAM |

Identity and Access Management
Mitigate risk, secure data, meet uptime requirements and satisfy compliance by giving users access to data and applications they need. Identity and access management (IAM) can be driven by business needs, not IT capabilities. With Identity Manager you can unify security policies and satisfy governance needs— today and into the future.


PRICE REQUEST
CONTACT WITH SALES
View product demo

Free trial

| | | | |
| --- | --- | --- | --- |
| | | | Visualize, analyze and optimize your virtual infrastructure |

Foglight for Virtualization, Enterprise Edition
Optimize performance, plan for growth, track changes and allocate costs across virtual, physical and cloud environments. Foglight for Virtualization, Enterprise Edition, provides the holistic insight you need into the health, risk and efficiency of your virtual infrastructure. Reduce operational costs, speed deployments, reduce the performance impact of changes and simplify the complexity of your data center infrastructure with end-to-everything visualization. And with virtual network switch support, administrators get full visibility into bottlenecks, network traffic information and bandwidth issues so problems can be addressed before customers are impacted.


PRICE REQUEST
CONTACT WITH SALES
View product demo

Free trial

| | | | |
| --- | --- | --- | --- |
| | | | The fastest way to develop cross-platform Native Apps |

RAD Studio
RAD Studio is the fastest way to write, compile, package and develop cross-platform native applications with flexible cloud services and broad IoT connectivity from a single codebase. Fast Developers pick RAD Studio because it delivers Enterprise Strong Development and deployment 5x faster across desktop, server, mobile, cloud, and database platforms.


PRICE REQUEST
CONTACT WITH SALES
View product demo

Free trial

| | | | |
| --- | --- | --- | --- |
| | | | Optimize Oracle performance with nonstop data collection and instant metric-sensitive alerts |
Foglight for Oracle


Oracle monitoring tools get an enterprise view of database health and automate performance analysis to quickly identify and fix problem servers and resource areas. With this robust Oracle monitoring tool, you'll maximize database performance and availability. And with Foglight's new SQL Performance Investigator (PI) functionality, you get a highly scalable and easily configurable SQL workload performance analytics engine.


PRICE REQUEST
CONTACT WITH SALES
View product demo

Free trial

| | | | |
| --- | --- | --- | --- |
| | | | Quest Authentication Services |
Quest Authentication Services


Authentication Services, a part of the Privileged Access Suite for Unix, addresses authentication by extending the security and compliance of Active Directory to Unix, Linux and Mac OS X, as well as to many enterprise applications.

Some of the largest and most complex global environments rely on Authentication Services to achieve compliance with cross-platform access control; improve operational efficiency with centralized authentication and single sign-on; and unify identities and consolidate directories for simplified identity and access management.

Main fetures:
Active Directory for Unix, Linux and Mac – Authentication Services extends the authentication, authorization and administration infrastructure of AD to the rest of the enterprise, enabling Unix, Linux and Mac OS X systems to act as full citizens within AD. Authentication Services supports an extremely long list of Unix, Linux and Mac operating systems.View the complete list here.
Audit, alerting and change tracking – When Unix, Linux and Mac OS X systems join Active Directory, it becomes vitally important for organizations to be able to prove they have control over non-Windows data stored in AD. Authentication Services is the only solution that fully addresses this requirement by delivering the ability to audit, alert on and show detailed change history of Unix-centric information now being managed by AD.
Administration, configuration and management – Authentication Services provides an intuitive, platform-agnostic web console; centralized access to an AD bridge; and root delegation capabilities.
Group Policy for Unix, Linux and Mac – Authentication Services includes a patented framework for extending policy-based management (through Windows Group Policy) to non-Windows systems, including Group Policy for Mac OS X.
Access control–Authentication Services extends the native access control capabilities of Active Directory to non-Windows systems, providing central control over which AD users are permitted to authenticate to which non-Windows systems.
Deployment flexibility – You can deploy Authentication Services in an optimized way that best suits your environment, objectives, challenges and timelines. Options range from a non-impact, "schema-less" deployment to a fully rationalized, "get to one" environment.
Single sign-on (SSO) – Authentication Services adds Kerberos and LDAP to Unix, Linux and Mac OS X systems in the same way that these protocols are used in Windows. In addition, the product provides out-of-the-box single sign-on for a number of applications, including SAP, Siebel and DB2.
NIS migration and directory consolidation – The solution streamlines the process of joining Unix/Linux/Mac OS X systems and users to the AD domain and facilitates migration from multiple authentication mechanisms (including NIS), identities and directories to a single Active Directory-based infrastructure for all systems and users.
Simplified identity and access management – Authentication Services extends the value of your existing investment in Active Directory and AD-optimized identity administration tools. In addition, Authentication Services can dramatically simplify an existing meta-directory, security framework or synchronization solution.
PRICE REQUEST
CONTACT WITH SALES
| | | | |
| --- | --- | --- | --- |
| | | | The Ultimate Application Development Platform for Windows, Mac, Mobile, and IoT |

Delphi
Delphi is the nimble Object Pascal IDE and component library for cross-platform native app development with flexible Cloud services and broad IoT connectivity. Compile natively for fast Linux and Windows server support and reach the widest audience with App Store support for Windows, macOS, iOS and Android - all from the same native code base - in the first IDE with integrated Windows Desktop Bridge Support. Fast developers choose Delphi for Enterprise Strong Development™ and enjoy 5x faster development cycles across desktop, server, mobile, cloud, and database platforms.


PRICE REQUEST
CONTACT WITH SALES
View product demo

Free trial


NetOp Remote Control
Why do over half of Fortune 100 companies use Netop Remote Control? Because security matters. Netop is the most secure, trusted and scalable remote solution on the market today. We've been helping customers grow their enterprises with secure remote control and support for workstations, servers, embedded systems and mobile devices for over 25 years.


Because security matters
Security compliance ready
The remote control experts
Consolidation saves you money
Protect your business
Manage consultant access
Lower your liability
PRICE REQUEST
CONTACT WITH SALES
Free trial

Quest Unveils Toad Data Point 5.6, Accelerating Data Democratization in the Enterprise
06.12.2022 - ALISO VIEJO, CALIF. – Dec. 6, 2021 – Quest Software, a global systems management, data protection, and security software provider, today announced the availability of Toad Data Point 5.6, a cross-platform, self-service, data preparation tool that empowers business analysts to retrieve and work with data from disparate sources in a simple and effective way. More info ...




Progress Wins 2021 Top Tech Awards for Its Culture, Inclusivity, Social Responsibility and Leadership
11.11.2021 - ?BEDFORD, Mass., Nov. 11, 2021 (GLOBE NEWSWIRE) -- Progress (NASDAQ: PRGS), the leading provider of products to develop, deploy and manage high-impact applications, today announced it has been recognized by MassTLC as a 2021 Tech Top 50 company in four categories: Company Culture, Inclusivity Impact, Tech for Good: Social Responsibility and Leadership. The Tech Top 50 recognizes the region's tech companies and leaders who have made a significant impact during the past year. More info ...




One Identity Acquires OneLogin, Adding Market-Leading Access Management Solutions to the Industry's only Unified Identity Security Platform
04.10.2021 - ALISO VIEJO, Calif., — October 4, 2021 — One Identity, a leader in unified identity security, today acquired OneLogin, a market-leading provider of Identity Access Management (IAM) solutions, to expand the scope of One Identity's Unified Identity Security Platform. Combined with its existing Privileged Access Management (PAM), Identity Governance and Administration (IGA), and Active Directory Management and Security (ADMS) solutions, the company will now enable customers to take a holistic approach to identity security with trusted, proven technology in each major category. More info ...




Progress Introduces Log Management Archiving in WhatsUp Gold 2021.1
21.09.2021 - BEDFORD, Mass., Sept. 21, 2021 (GLOBE NEWSWIRE) -- Progress (NASDAQ: PRGS), the leading provider of products to develop, deploy and manage high-impact business applications, today announced the latest release of Progress® WhatsUp® Gold, the award-winning network monitoring software. With today's release, WhatsUp Gold includes major enhancements in usability and security with support for log management archiving along with extended support for OpenID Connect, Microsoft Edge and Cisco Meraki wireless devices. More info ...




Embarcadero Technologies has announced the General Availability of RAD Studio 11 Alexandria, including Delphi 11 and C++Builder 11
09.09.2021 - RAD Studio 11 Alexandria introduces a number of important new features and enhancements that improve the user experience of the IDE and boost developer productivity, including support for high-DPI 4k+ screens, new Windows features in the VCL along with design-time preview of VCL styles, a new welcome page, a C++ formatter and enhanced cross-language support between Delphi and C++, enhanced FMX designers, a macOS ARM64 native compiler for Delphi, and Edge browser support for FMX on Windows. More info ...




Dynatrace named a Leader for the 10th consecutive time in Gartner's 2020 Magic Quadrant for Application Performance Monitoring
27.05.2020 - WALTHAM, MA, April 24, 2020 – Software intelligence company, Dynatrace (NYSE: DT), today announced it has been named a Leader in Gartner's 2020 Magic Quadrant for Application Performance Monitoring, with the furthest overall position for Completeness of Vision. This marks the 10th consecutive time Dynatrace has been positioned in the Leaders' quadrant for its Completeness of Vision and Ability to Execute. A complimentary copy of the Gartner 2020 Magic Quadrant for Application Performance Monitoring is available here. More info ...




Announcing Netop Remote Control version 12.74 and Netop WebConnect version 3.02
10.10.2018 - Netop Remote Control version 12.74 allows administrators to create and manage application whitelists in the Netop Remote Control Portal. Introduced with version 12.72, the whitelisted applications feature provides additional granularity for role-based permissions, giving users the ability to restrict remote control sessions to a single application (or a list of applications) on the Host device. More info ...




With best regards,

Software Engineering Center OÜ
Rannaniidu 12,
13516 Tallinn, Estonia
Tel: +372 5014734
Email: oeljas@sec.ee
Skype: olev.eljas
http://www.sec.ee